Useful Links
School Nurse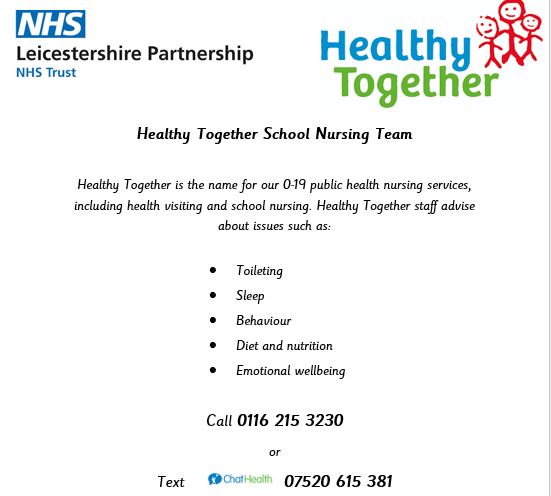 Leicestershire Partnership NHS Trust runs a confidential secure text messaging service for parents of children aged 0-19 years called ChatHealth. The service operates Monday to Friday between 9am and 5pm, excluding bank holidays. All texts will be responded to by a public health nurse (health visitor/school nurse) within 24 hours. Outside of the service working hours, you'll receive a message back to inform you that your text will be responded to once the line reopens."
Watch a video introduction to the Healthy Together Service.
HEALTHY TOGETHER PARENT AND CARER VIDEO FINAL 04 05 17 - YouTube
Some other useful websites:
www.healthforunder5s.co.uk www.healthforkids.co.uk www.healthforteens.co.uk
Mental Health and Wellbeing
The wellbeing of children and adults is extremely important, especially as we continue to navigate these unprecedented times. Please find resources and links to websites below which may help you and your family.
If you feel that you, your children or a family member needs support, please do not hesitate to contact the school. We are here to support you.
Resources
mental-wellbeing-support-for-children-and-young-people